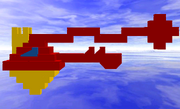 King Intruder

Full Name:

King F. Intruder

Gender:

Male

Status:

Alive

Likes:

Fish Race, Fried Seaweed, Finding Fossils, Battling Enemies

Dislikes:

Losing, calling him Fried Crown

Enemies:

King Barracuda, Speed Of Sound

Seen:

Insaniquarium 2, Insaniquarium Evolution, Insaniquarium 3 (upcoming)
King Intruder, The Biggest Known Fish.
he was scared to Great Orca due to his scary appearance also size
everytime to hits his enemy, it creates a shockwave and a tsunami.
it is revealed that his name is terra.